Search

Type a keyword to search for products.
Use quotes for exact matching
eg "giant chess"
News
Practical Chess Endings back in print!


CHESS_ACE, Thu 25 April 2019 12.08am - The new book, Practical Chess Endings, has arrived! For more information see more. (1808040335)

Chess Computers back in stock!
CHESS_ACE, Mon 11 March 2019 12.00am - ChessGenuis Pro Chess Computer only $299.95 For more information see more. (1612200329)

Magnus Carlsen wins World Championship!
CHESS_ACE, Thu 29 November 2018 12.00am - London hosting Carlsen-Caruana match Nov 2018. For more information see more. (1808040324)

DGT Easy Clock Black Beyond
CHESS_ACE, Wed 28 November 2018 12.00am - DGT Easy Clock Black Beyond now available! For more information see more. (1605160752)
Chess Endgames for Kids (HB)
Chess Endgames for Kids (HB).
Type: BOOKS. Detail: Muller, K. Product Code: 9781910093610.
Category: ENDGAME. Publisher: .
Retail Price: AUD $22.00
(includes GST)
Buy
or
Remove
Most chess games are decided in the endgame. It is here where you reap the reward for your good play, or else use all your cunning to deny the opponent victory. Knowing just a few key endgame techniques will dramatically increase your confidence, as you will understand what positions to aim for and which to avoid.Starting with the basic mates and the simplest pawn endings, this book provides all the endgame knowledge that players need to take them through to club level and beyond. Mller carefully guides us stepbystep through a fascinating range of endgame tactics and manoeuvres, helping us understand the underlying logic.Throughout the book, many cunning endgame tricks are highlighted. You will have fun springing them on friends, family or your opponents in serious tournaments. Chess Endgames for Kids makes learning chess endgames fun. But it is also a serious endgame course written by a leading endgame expert, and provides a firm basis for vital skills that will develop throughout your chess career.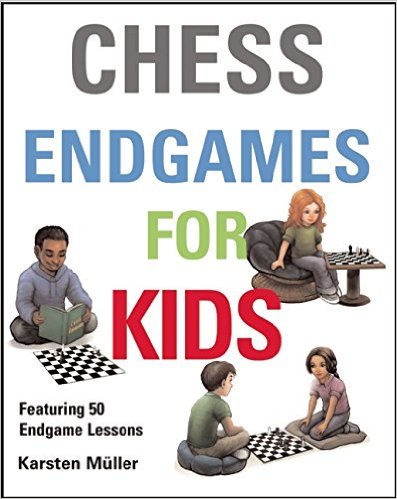 ---


Click on detail to open up the print-friendly version of this page.
---