Beating the King's Indian etc.
Beating the King's Indian etc..
Type: BOOKS. Detail: Taylor, T. Product Code: 1857444280.
Category: 1 D4 OPENINGS. Publisher: Everyman.
Retail Price: AUD $32.95
(includes GST)
Buy
or
Remove
In this book, Timothy Taylor gets to grips with the King's Indian and Grunfeld, providing White with a number of easy to learn and effective weapons which are specially designed to cause Black maximum discomfort. Taylor examines the typical tactical and positional ideas for both players, highlighting the tricks and pitfalls one must look out for. A study of this book will allow the reader to battle against the King's Indian and the Grunfeld with renewed confidence. Written by a renowned openings expert Weapons against two of Black's most popular defences Ideal for club and tournament players International Master Timothy Taylor is an experienced tournament player who has enjoyed several notable successes, including winning the US Open.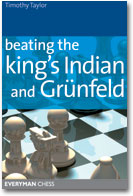 ---