Digital Clock/Timer: DGT 1001 White
Digital Clock/Timer: DGT 1001 White.
Type: EQUIPMENT. Detail: CLOCKS. Product Code: DGT1001W.
Retail Price: AUD $39.95
(includes GST)
Buy
or
Remove
Buy 10 get 1 free! Simply order 10 and you will be sent 11 clocks. Order 20 and receive 2 extra! A standard digital clock that has basic functions which are ideal for schools, clubs and friends. The handy size (15.5cm length, 6.0cm width and 4.5cm height) makes it easy to pack away, while small enough to be perfect to take on your travels. The DGT 1001 features countdown and upcount modes and has two large buttons on the top left and right to operate the timer. An AA battery is included.
Details (2Kb jpg file)
Sample (3Kb jpg file)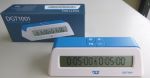 ---