Search

Type a keyword to search for products.
Use quotes for exact matching
eg "giant chess"
News

NEW! Sultan Kahn - Hardback edition
Tue 7 July 2020 - Daniel King examines the life of the Indian who stormed the chess world from 1929-33 and then disappeared from the chess scene. For more information click here.


Attacking chess with g2-g4
Thu 2 July 2020 - Gain the upperhand with this latest release book titled "Attacking with g2-g4". For more information click here.

End of financial year bargains!!
Sat 20 June 2020 - Looking for a great bargain? Check out our books, DVDs and software at reduced prices. For more information click here.

NEW! Komodo 14
Tue 16 June 2020 - Just arrived, Komodo 14 is the latest chess software to improve your game. For more information click here.

Chess Computers with real pieces.
Fri 15 May 2020 - The top level ChessGenuis Pro Chess Computer only $299.95 For more information click here.
Fearsome Four Pawns Attack
Fearsome Four Pawns Attack.
Type: BARGAINS. Detail: Konikowski & Soszynski. Product Code: 1888690275.
Retail Price: AUD $19.95
(includes GST)
Buy
or
Remove
The Kings Indian has long been one of Blacks sharpest defenses to 1 d4. The Fearsome Four Pawns Attack is a book that deals with one of the most aggressive systems against this popular defense. The logic of the system is quite simple: With f2f4 White stakes a maximal claim in the center, which he will follow up by an attack on the enemy king. Of course, Black has a lot of defensive possibilities, but must play with a feel for the positions and above all know the theory well. Otherwise White will quickly grab the initiative, and Black may find himself on the wrong end of a blistering, direct attack on the King. Jerzy Konikowski is one of the most prolific chess authors in the world, with dozens of publications in several languages to his credit. He holds the FIDE Master title as well as titles in correspondence chess and chess composition.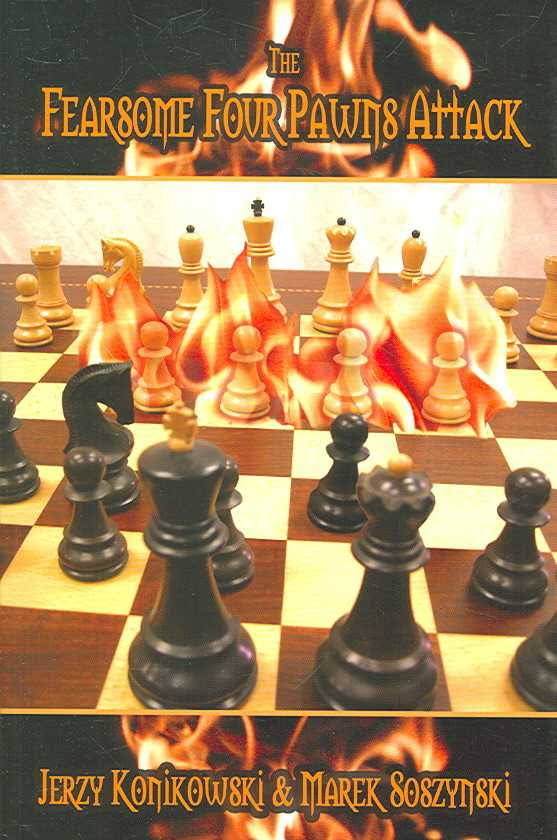 ---



Click on detail to open up the print-friendly version of this page.
---