Play the Alekhine
Play the Alekhine.
Type: BOOKS. Detail: Bogdanov, V. Product Code: 9781906454159.
Category: OPENING KP. Publisher: Gambit.
Price: AUD
$28.95
Now $20.00 (31% discount!!)
Buy
or
Remove
The Alekhine is arguably the most forcing and aggressive reply to 1 e4. Black immediately forces the pace and drags the game onto his own favoured territory. This strategy is not without risk, but those who specialize in the Alekhine find that the opening has a real practical sting and quickstrike potential. This book describes the main positional and tactical themes unique to the Alekhine, and the principal directions of play in modern practice. The coverage is evenhanded, and there are abundant ideas presented to both sides, including ways for White to seek to consolidate his space advantage, or else to try to blast Black off the board. The author, Valentin Bogdanov, has a wealth of experience with the Alekhine, having played it over the course of more than three decades. Moreover, he was active in Odessa chess at the time when the Alekhine was extensively developed by a group of players including GM Semion Palatnik and threetime US Champion Lev Alburt. Thus he provides us not only with the benefit of his own accumulated wisdom, but also with insights gleaned from work with some of the greatest Alekhine devotees of all time. Softback 126 pages.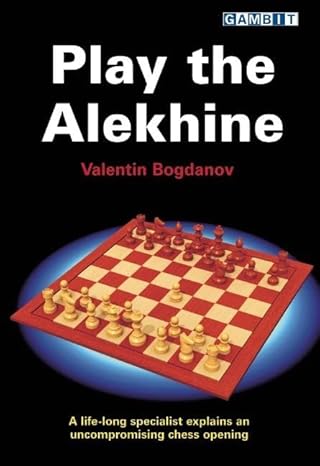 ---