Search

Type a keyword to search for products.
Use quotes for exact matching
eg "giant chess"
News
Practical Chess Endings back in print!


CHESS_ACE, Tue 26 March 2019 2.24pm - The new book, Practical Chess Endings, has arrived! For more information see more. (1808040335)

Chess Computers back in stock!
CHESS_ACE, Mon 11 March 2019 12.00am - ChessGenuis Pro Chess Computer only $299.95 For more information see more. (1612200329)

Magnus Carlsen wins World Championship!
CHESS_ACE, Thu 29 November 2018 12.00am - London hosting Carlsen-Caruana match Nov 2018. For more information see more. (1808040324)

DGT Easy Clock Black Beyond
CHESS_ACE, Wed 28 November 2018 12.00am - DGT Easy Clock Black Beyond now available! For more information see more. (1605160752)
Learn Chess The Right Way 2
Learn Chess The Right Way 2.
Type: BOOKS. Detail: Susan Polgar. Product Code: 9781941270455.
Category: CHILDREN. Publisher: .
Retail Price: AUD $24.95
(includes GST)
Buy
or
Remove
A puzzle book with 500 positions showing you how to win. THE POLGAR WAY TO BETTER CHESS! Learn Chess the Right Way is a fivevolume chess puzzle book series aimed at the novice, beginner and intermediate level player, using the unique methods of the awardwinning coach and former world champion Susan Polgar. It introduces the most important checkmate and materialwinning tactics, as well as defensive techniques to the new chess player. Volume 2 is all about winning material exercises. In each of the first six chapters a certain piece captures an enemy piece (in chapter 1 The Queen, in chapter 2 The Rook, and so on). In chapter 7, you will get no hint about which piece should be moved. In chapters 8 to 12, the most common and important chess tactics (such as decoy, fork, pin, discovery and skewer) are introduced. Finally, in chapter 13, in addition to the previously mentioned patterns, you will need to figure out which tactical pattern to use to win material, including concepts like trapping a piece or intermediate move. With over 40 years of experience as a world class player and coach, international grandmaster Susan Polgar has developed the most effective way to help young players and beginners Learn Chess the Right Way. Let her show you the way to understanding the most common and critical patterns and let her show you the way to becoming a better player. SUSAN POLGAR is a winner of four Women's World Championships and the top ranked woman chess player in the United States. Softback, 168 pages.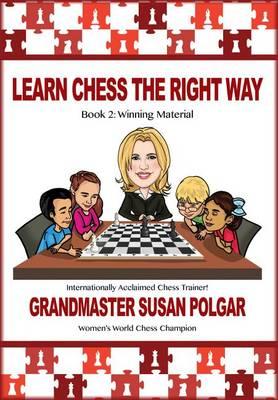 ---


Click on detail to open up the print-friendly version of this page.
---