Search

Type a keyword to search for products.
Use quotes for exact matching
eg "giant chess"
News
Strike like Judit has arrived!


CHESS_ACE, Sat 16 February 2019 11.44pm - The new book, Strike like Judit, has arrived! For more information see more. (1808040335)

Magnus Carlsen wins World Championship!
CHESS_ACE, Thu 29 November 2018 12.00am - London hosting Carlsen-Caruana match Nov 2018. For more information see more. (1808040324)

DGT Easy Clock Black Beyond
CHESS_ACE, Wed 28 November 2018 12.00am - DGT Easy Clock Black Beyond now available! For more information see more. (1605160752)

Chess Computers back in stock!
CHESS_ACE, Sun 11 November 2018 12.00am - ChessGenuis Pro Chess Computer only $299.95 For more information see more. (1612200329)
Chess Opening Essentials V3
Chess Opening Essentials V3.
Type: BOOKS. Detail: Djuric et al. Product Code: 9789056912703.
Category: OPENINGS. Publisher: New in Chess.
Retail Price: AUD $69.95
(includes GST)
Buy
or
Remove
Indian Defences, Complete. Volume 3 of an accessible primer and reference book about chess openings. Provides a solid foundation to build your opening repertoire on. Explains what you should be trying to achieve, with clear indications for further study.Comprehensive: covers all main variations likely to ariseEasytouse: important moves and key positions are highlighted in colourLonglasting: it doesnt outdate because it is about basics not the latest fashionsComplete: explains the plans and counterplans for both Black and WhiteDowntoearth: simple, verbal introductions (not a database dump full of dead trees)Convenient: every opening is illustrated with a number of instructive gamesThis book helps beginners to develop a solid understanding of fundamental opening play, gives casual players the ability to choose the opening that suits their style and taste, and is a tool for club players to test and review their opening repertoire.Buy all 4 volumes combined with a nice discount here.Schakers.Info:"For players with a rating up to 1900 this book covers a large part of the road."British Chess Magazine:"It gives an outline of each opening and major variation in turn, explaining the ideas and most popular choices for the benefit of elementary players. The reviewer was impressed by the practical advice given in the notes in this wellproduced volume."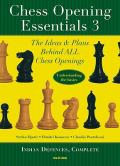 ---


Click on detail to open up the print-friendly version of this page.
---