Search

Type a keyword to search for products.
Use quotes for exact matching
eg "giant chess"
News
Practical Chess Endings back in print!


CHESS_ACE, Tue 26 March 2019 2.24pm - The new book, Practical Chess Endings, has arrived! For more information see more. (1808040335)

Chess Computers back in stock!
CHESS_ACE, Mon 11 March 2019 12.00am - ChessGenuis Pro Chess Computer only $299.95 For more information see more. (1612200329)

Magnus Carlsen wins World Championship!
CHESS_ACE, Thu 29 November 2018 12.00am - London hosting Carlsen-Caruana match Nov 2018. For more information see more. (1808040324)

DGT Easy Clock Black Beyond
CHESS_ACE, Wed 28 November 2018 12.00am - DGT Easy Clock Black Beyond now available! For more information see more. (1605160752)
Dismantling the Sicilain
Dismantling the Sicilain.
Type: BOOKS. Detail: De La Silva & Illingworth. Product Code: 9789056917524.
Category: OPENINGS. Publisher: .
Retail Price: AUD $45.00
(includes GST)
Buy
or
Remove
The Sicilian Defence is the most widely played chess opening, both at club level as well as among top grandmasters. Since Black gets dynamic play in almost all variations, black players of all levels will probably continue to play the Sicilian for a long time to come. It has been difficult for White to obtain any advantage in Sicilian sidelines, and this book therefore presents a complete repertoire for White in the most widely played main lines: the Open Sicilians with 1.e4 c5 2.Nf3. All of Black's possible answers are covered. 'Dismantling the Sicilian' is clearly organized, and each variation is presented with its history, its main ideas, its typical tactics and strategies, and with instructive games. The authors thoroughly explain the relevant themes and always summarizes the most important features. This a completely new edition, updated and extended from the original 2009 publication.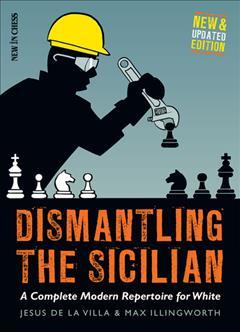 ---


Click on detail to open up the print-friendly version of this page.
---