Search

Type a keyword to search for products.
Use quotes for exact matching
eg "giant chess"
News

NEW! Sultan Kahn - Hardback edition
Sun 5 July 2020 - Daniel King examines the life of the Indian who stormed the chess world from 1929-33 and then disappeared from the chess scene. For more information click here.


Attacking chess with g2-g4
Thu 2 July 2020 - Gain the upperhand with this latest release book titled "Attacking with g2-g4". For more information click here.

End of financial year bargains!!
Sat 20 June 2020 - Looking for a great bargain? Check out our books, DVDs and software at reduced prices. For more information click here.

NEW! Komodo 14
Tue 16 June 2020 - Just arrived, Komodo 14 is the latest chess software to improve your game. For more information click here.

Chess Computers with real pieces.
Fri 15 May 2020 - The top level ChessGenuis Pro Chess Computer only $299.95 For more information click here.
ChessBase Magazine 185
ChessBase Magazine 185.
Type: SOFTWARE. Detail: CB MAGAZINES. Product Code: CB185.
Retail Price: AUD $29.95
(includes GST)
Buy
or
Remove
The August/September issue 2018. The ChessBase Magazine is the most comprehensive and most sophisticated chess magazine there is. World class players analyze their brilliancies and explain the ideas behind the moves to you, opening specialists present the latest trends in opening theory and offer exciting ideas for your repertoire. Master trainers in the fields of tactics, strategy, and the endgame show you the tricks and techniques a successful tournament player needs. Video and annotated chessbase games make this DVD a must for the serious player.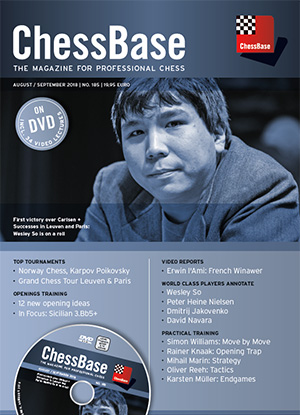 ---


Click on detail to open up the print-friendly version of this page.
---