Search

Type a keyword to search for products.
Use quotes for exact matching
eg "giant chess"
News

NEW! Sultan Kahn - Hardback edition
Sat 11 July 2020 - Daniel King examines the life of the Indian who stormed the chess world from 1929-33 and then disappeared from the chess scene. For more information click here.


Attacking chess with g2-g4
Thu 2 July 2020 - Gain the upperhand with this latest release book titled "Attacking with g2-g4". For more information click here.

End of financial year bargains!!
Sat 20 June 2020 - Looking for a great bargain? Check out our books, DVDs and software at reduced prices. For more information click here.

NEW! Komodo 14
Tue 16 June 2020 - Just arrived, Komodo 14 is the latest chess software to improve your game. For more information click here.

Chess Computers with real pieces.
Fri 15 May 2020 - The top level ChessGenuis Pro Chess Computer only $299.95 For more information click here.
Chess Medal
Chess Medal.
Type: EQUIPMENT. Detail: GIFTS. Product Code: ZCHESSMEDAL3.
Retail Price: AUD $5.95
(includes GST)
Buy
or
Remove
The Square Chess Medal has long been a favorite in our line of medals and prizes for clubs and tournaments. The medal has three chess pieces profiled over a chess board and hangs from a 30" red, white and blue ribbon. These medals are sure to make any chess student feel like an Olympic winner. These fun prizes have a heavy feel and are made of metal. They come in gold, silver, or bronze (though not the real precious metals!) Although the main body of the medal is the square the overall measurements are about 1 " by 2" at the longest tip of the chess pieces. There is room for engraving on the back.
Sample (73Kb jpg file)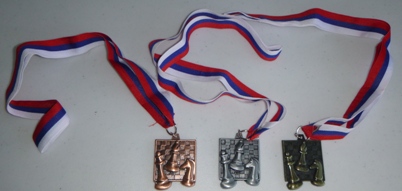 ---


Click on detail to open up the print-friendly version of this page.
---