The Chess Player's Quarterly Chronicle V1
The Chess Player's Quarterly Chronicle V1.
Type: BARGAINS. Detail: Fiala, V. Product Code: 8071894176.
Price: AUD
$69.95
Now $19.95 (71% discount!!)
Buy
or
Remove
Facsimile reprint of the edition originally published quarterly in 1868 to 69 in York/London. Includes 150 games with brief notes, a news/reports section called " Chess Intelligence", a " Hints for Beginners" section, some chess problems, a few theory articles. The Chess Player's Chronicle, founded by Howard Staunton and extant in 184156 and 185962, was the world's first successful Englishlanguage magazine devoted exclusively to chess. Arthur Skipworth, assisted by William Wayte and Charles Ranken, wrote The Chess Players' Quarterly Chronicle, which was published in York from February 1868 to December 1871. The games are in descriptive notation such as P K4. A collectors item. Hardback, 326 pages.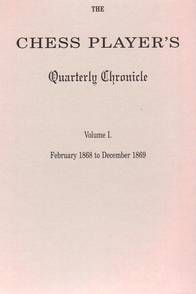 ---