Antoaneta Stefanova
Antoaneta Stefanova.
Type: BARGAINS. Detail: Georgiev & Stoichkov. Product Code: 9546497355.
Price: AUD
$29.95
Now $9.95 (67% discount!!)
Buy
or
Remove
A charming but rare little book on the former ladies World Champion Antoaneta Stefanova by her chess coaches Vladimir Georgiev and Simeon Stoichkov. It tells the story of Antoanetas road to victory in 2004 in Elista when she captured the world title. Part one consists of a brief history of Etis career and an interview with her after winning title. In Part two her games from the Elista tournament are analysed. All text is both in English and in Russian. Including lots of colour pictures from the Stefanova family album. She says This book is dedicated to all, who believe in the talent, the beauty and the intellect of the Bulgarian women. Softback 148 pages. 8 x 5.5 x 0.5 inches.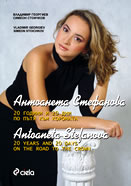 ---