Coffeehouse Repertoire 1 e4
Coffeehouse Repertoire 1 e4.
Type: BOOKS. Detail: Jones, G. Product Code: 9781784831455.
Category: 1 E4 OPENINGS. Publisher: .
Retail Price: AUD $49.95
(includes GST)
Buy
or
Remove
Coffeehouse Repertoire is a 1.e4 players dream: an arsenal of ideas from a world class grandmaster to surprise and confound your opponents, combining coffeehouse trickery with complete theoretical soundness.
In Volume 1,GM Gawain Jones shows how to put pressure on the Sicilian, Caro Kann, Scandinavian and Alekhines Defence, using lines which feature a potent combination of surprise value, objective soundness and practical effectiveness. Softback, 427 pages.
Details (6Kb jpg file)
Sample (36Kb jpg file)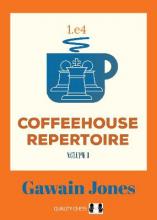 ---