The Reassess Your Chess Workbook
The Reassess Your Chess Workbook.
Type: BOOKS. Detail: Silman, J. Product Code: 9781890085056.
Category: MIDDLEGAME. Publisher: .
Retail Price: AUD $39.95
(includes GST)
Buy
or
Remove
423 pages, softback. In this comprehensive workbook, International Chess Master Jeremy Silman tests a player's strengths and weaknesses with 131 problems that cover openings, tactical and positional middlegames, and endgames.Unique among books that present problems and their solutions, but offer little actual instruction, The Reassess Your Chess Workbook takes the player through the processes of problem solving and analysis and provides advice and instruction that ultimately helps him discover the major flaws imbedded in his play. Through this method, the player is led to an understanding of a thought system that will add hundreds of rating points to his chess strength.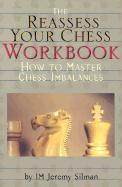 ---