French: Advance & Other Lines
French: Advance & Other Lines.
Type: BOOKS. Detail: Pedersen, S. Product Code: 9781904600404.
Category: 1 E4 OPENINGS. Publisher: Gambit.
Price: AUD
$32.95
Now $20.00 (39% discount!!)
Buy
or
Remove
Steffen Pedersen covers all of White's alternatives to 3 Nc3 and 3 Nd2. These include the aggressive Advance, the quiet Exchange, and sidevariations such as the Two Knights, King's Indian Attack and the Wing Gambit. In these lines, it is White who determines the central structure and sets the pace of the game. With the Advance Variation, White establishes a space advantage, and will often seek to exploit this by creating attacking chances on the kingside, or a bind on the queenside. Both sides have a variety of systems at their disposal, and the player who is better acquainted with the intricacies of these lines will tend to come out on top. It is a perennial favourite among players with a direct aggressive style: Shirov has played the Advance many times in recent years, while it has been employed by Sveshnikov and Kupreichik throughout their careers. The Exchange Variation leads to open and generally symmetrical positions. Pedersen carefully examines White's attempts to seize the initiative, and also recommends ways for Black to create play if White adopts a more stolid approach. Softback, 144 pages.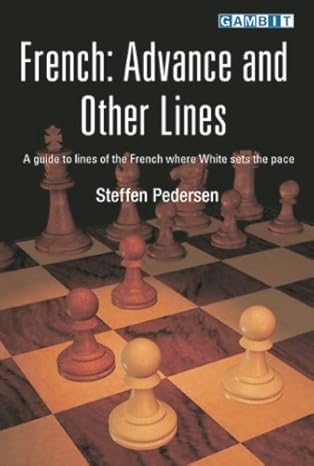 ---