Moscow & Anti-Moscow Variation
Moscow & Anti-Moscow Variation.
Type: BOOKS. Detail: Dreev, A. Product Code: 9789548782746.
Category: 1 D4 OPENINGS. Publisher: .
Retail Price: AUD $39.95
(includes GST)
Buy
or
Remove
Dreev is a leading expert on opening theory. The Moscow Variation and the AntiMoscow Gambit are his trademark systems. Alexey Dreev comments The positions arising in the Moscow variation and the AntiMoscow variation are in principle so different that I have decided to arrange the material in the two parts of the book in different fashion too. The part of the book, which deals with the analysis of the plans and possibilities in the much calmer Moscow variation. The positions in the AntiMoscow variation are much more dynamic and complicated and the task to analyse absolutely all the situations is presently impossible. Still, I have tried to deal with practically all really important variations. The most fashionable positions have been extensively analysed and I have given some recommendations, which have not been tested in practice yet The Moscow variation and the AntiMoscow variation are an integral part of the opening armour of practically all the best chess players in the world Some of them even play it for both sides, Among the super experts who play it with Black, it would be sufficient to name Viswanathan Anand, Vassily Ivanchuk, Boris Gelfand, Levon Aronian, Peter Leko, Peter Svidler, Sergey Karjakin and they all have contributed considerably to the development of its theory. The players who have set the standard of fashion in its development for White are Vladimir Kramnik, Magnus Carlsen, Veselin Topalov, Ruslan Ponomariov,Alexander Khalifman, Alexander Grischuk, Teimour Radjabov, Shakhriyar Mamedyarov, Former World Champion Garry Kasparov has contributed immensely to the theory of both systems. Softback 212 pages. Dimensions: 5.7 x 0.4 x 8.5 inches.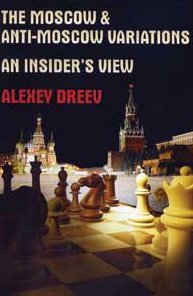 ---