Fritz & Chesster Volume 3
Fritz & Chesster Volume 3.
Type: SOFTWARE. Detail: 0 PLAYING PROGRAM. Product Code: CBFUF3CDE.
Retail Price: AUD $59.95
(includes GST)
Buy
or
Remove
A fun way to be better at chess using computer software. This unforgettable chess adventure is designed to advance young chess players skills, move by move. Discover minigames, braintwisters and more at every attraction. Pick up chess tips and skills as you ride in bumper cars and the Ferris wheel. Polish up your chess strategy and tactics, opening, middle game and endgame and use what youve learned to win. Youll have lots of fun while you learn more about the serious business of playing and winning chess!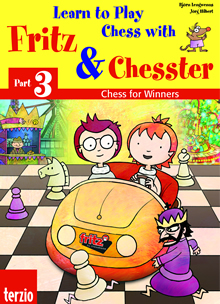 ---