Digital Chess Clock/Timer
Digital Chess Clock/Timer.
Type: EQUIPMENT. Detail: CLOCKS. Product Code: DGT-EASY-BB.
Retail Price: AUD $59.95
(includes GST)
Buy
or
Remove
The DGT Easy is the first digital game timer for everyone and for every game. It combines high quality with absolute simplicity.Easy clocks are practically unbreakable and very suitable for children, schools, chess clubs and home use. A few years ago, updated versions of all Easy clocks were released with larger display, larger buttons, improved lever, additional "move timer plus save" option .The two AA batteries are included. Size: 14.4 cm width, 13.4 cm deep, 7 cm high.
Sample (13Kb jpg file)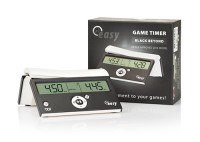 ---